Serpom Thoesam Norling Monastery is situated in the Bylakuppe Tibetan Settlement of Mysore, India. The monastery has a population of over 500 monks and has produced innumerable scholars, Buddhist masters, yogis, reincarnated tulkus, philosophers, and scholars.
Read more
This photo gallery contains a selection of images of Dorje Shugden, his entourage and other Enlightened Beings from around the world. Please enjoy and share these beautiful blessed pictures.
Read more
This photo gallery contains selected images of teachings, initiations, holy days and festivals happening all around the world in Dorje Shugden monasteries, temples and Dharma centres.
Read more
This photo gallery contains images of various temples, monasteries and Dharma centres around the world where the practice of the World Peace Protector Dorje Shugden is upheld.
Read more
This video shows the famous oracle of Dorje Shugden, the Venerable 7th Panglung Kuten, taking trance of various Dharma Protectors including Dorje Shugden himself, to officiate and bless the inauguration of Serpom Monastery.
Read more
Born in the Tibetan Year of the Earth Mouse (1948) in Eastern Tibet, His Eminence Kyabje Yongyal Rinpoche was recognised as the 4th incarnation of his lineage by His Holiness Kyabje Trijang Dorje Chang.
Read more
In 1976, an erudite young lama of the Gelugpa tradition, His Eminence Achok Rinpoche was born in Bomdila, Eastern India and was recognised as the 4th incarnation of Achok Rinpoche of Lithang, Tibet by His Holiness Kyabje Trijang Dorje Chang.
Read more
Achok Rinpoche confidently conferred the Yamantaka initiation and commentary on 17 – 18 January 2015 in Serpom Monastery, which he had received from Kyabje Yongyal Rinpoche and Geshe Yeshe Wangchuk.
Read more
On 17 – 19 January 2015, His Eminence Achok Rinpoche gave a series of initiations in Serpom Monastery. Achok Rinpoche conferred the Yamantaka empowerment and commentary, followed by the White Manjushri and Medicine Buddha initiations.
Read more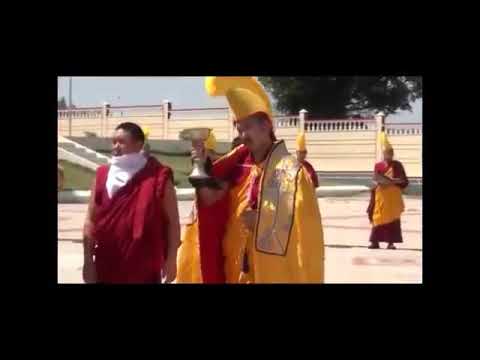 The Dorje Shugden Torgya is a puja which is performed to dispel all obstacles, negative energies and hindrances caused by misguided beings. This particular puja was performed specifically to ensure Serpom Monastery is clear of obstacles and surrounded by positive energies.
Read more
In 2014, news of the passing of one of the sacred living jewels of Serpom Monastery surfaced. He was Gen Tenzin Donyo, widely known as Gen Ahzung. Outwardly, he was an ordinary, humble monk with simple practices and few possessions.
Read more
The images below capture Venerable Achok Rinpoche giving teachings and the oral transmission of Lama Tsongkhapa's practice at Serpom Monastery in conjunction with the holy celebrations of Saga Dawa in 2014.
Read more
The Serpom School opened its doors in the year 2009. Modelled on the Tibetan Buddhist educational system with an emphasis on debate, the students have regular classes in the mornings, with debate sessions held twice a day in the mornings and evenings.
Read more
The inauguration of Serpom Monastery lasted five days from 18 to 22 December 2011 and included many auspicious activities including teachings, commentaries, debate sessions, prayers and speeches from invited dignitaries.
Read more