These videos contain rare and never-seen-before footage of oracular monks who mysteriously took spontaneous trance in the presence of Tsem Rinpoche during a pilgrimage to Tibet.
Read more
Recently, exciting information has come to light of Dorje Shugden's name written in the Kangyur, hidden in a passage about the names of Manjushri, as discovered by Dragyab Chocktrul Ngawang Losang Chokyi Gyaltsen.
Read more
This photo gallery contains selected images of great masters both past and present who have upheld and continue to uphold the lineage of World Peace Protector Dorje Shugden.
Read more
This video features some of the most renowned and accomplished Tibetan Buddhist masters in the world, all of whom propitiate Dorje Shugden as their Dharma Protector. Thus, we too can entrust our lives to Dorje Shugden with full confidence and faith.
Read more
Sampheling Monastery is located in the far eastern region of Tibet known as Kham, and is widely considered to be the personal monastery of His Holiness Kyabje Trijang Rinpoche. It is also well known for being a stronghold of Dorje Shugden practitioners.
Read more
This video shows the young incarnation of Denma Gonsa Rinpoche leading devotees through prayers. Even at such a young age, His Eminence Denma Gonsa Rinpoche has already manifested excellent memory in recollecting the prayers.
Read more
In 1930, Denma Choje Jampa Thubten Gelek Gyatso was born in Namkha Zong, Tibet. At the age of three, he was recognised by H.H. the 13th Dalai Lama as the incarnation of the 18th Denma Choje and was presented the seal of office and official documentations of his recognition.
Read more
Born in 1978 in Dharamsala, India, Zawa Tulku Rinpoche entered Gaden Shartse Monastery in 1982 as instructed by His Holiness Kyabje Trijang Rinpoche. He received his ordination vows from the illustrious Kyabje Zemey Rinpoche.
Read more
This video provides a succinct introduction to the history of the Gelug tradition and the practice of its Dharma Protector. The holy and traditional images of His Eminence Denma Gonsa Rinpoche's monastery are also showcased as part of this video.
Read more
The unmistaken incarnation of His Eminence Denma Gonsa Rinpoche was recognised by four sources which includes the greatest Gelugpa masters of our time. The enthronement of a tulku is the formal recognition of a particular individual.
Read more
In December 2014, His Holiness Kyabje Pabongka Rinpoche conferred the novice monastic vows on the young Denma Gonsa Rinpoche. It is truly a blessing to be able to witness the presence of these two holy beings.
Read more
This is the full video of H.E. the 20th Denma Gonsa Rinpoche's enthronement ceremony. More than 200,000 people gathered on this auspicious day to witness the return of an attained master whose previous lives have been incredibly beneficial.
Read more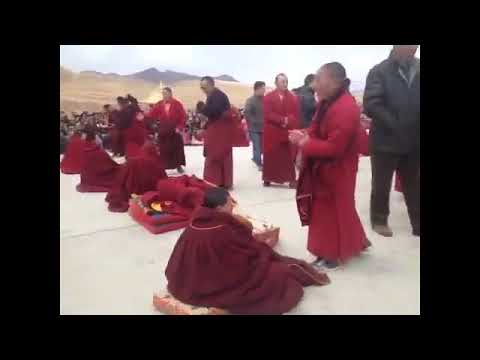 On 31 July 2014, His Eminence the 20th Denma Gonsa Rinpoche was enthroned in Gonsa Monastery. Over 200,000 practitioners from Tibet and around the world gathered to celebrate such an auspicious event.
Read more
In 2014, a meeting of two great minds occurred between H.H. the 11th Panchen Lama and the young reincarnation of Denma Gonsa Rinpoche. They met for the purpose of reaffirming the incarnation status of the young tulku.
Read more