The images below capture Venerable Achok Rinpoche giving teachings and the oral transmission of Lama Tsongkhapa's practice at Serpom Monastery in conjunction with the holy celebrations of Saga Dawa in 2014.
Read more
On 5 – 12 March 2014, more than 400,000 people from Chatreng and the nearby villages attended the Monlam Festival at Sampheling Monastery. The Gelugpa Monlam Chenmo (Great Prayer Festival) is one of the most significant and important religious events in Tibetan Buddhism.
Read more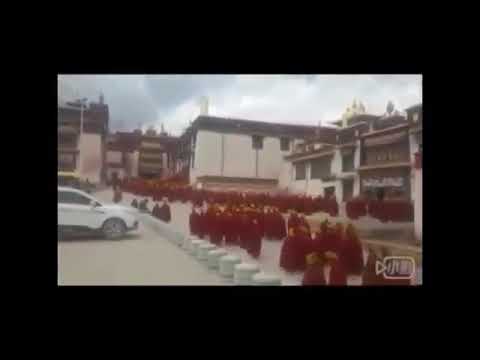 After the completion of the Prajnaparamita class, monks perform a celebratory puja to remove obstacles for their next class, which is on the topic of Madhyamika. This video shows many monks gathering to perform these prayers, which include prayers to Dorje Shugden.
Read more
In Jinka Monastery, 5,000 devotees received Dorje Shugden's life entrustment initiation from Khenpo Zongluo Jampa Khedrup Rinpoche of Chamdo Jampa Ling Monastery.
Read more
Gaden Yangchen Phuntsok Ling Monastery held a four-day Winter Ritual Dance between 31 October and 3 November 2013 with a large crowd gathering to watch the monks dance in their ceremonial robes and receive blessings.
Read more
The inauguration of Serpom Monastery lasted five days from 18 to 22 December 2011 and included many auspicious activities including teachings, commentaries, debate sessions, prayers and speeches from invited dignitaries.
Read more