The establishment and cultivation of the close relationship with Tibet, especially with key Gelugpa lamas such as the Dalai Lamas, Panchen Lamas and the Changkya Lamas by past Emperors of China, particularly of the Qing dynasty, culminated in the flourishing of Tibetan Buddhism across China and in Tibet.
Read more
To help people connect with him, a modern and easy-to-understand set of materials have been produced to make his practice accessible to everyone in six different languages: English, Tibetan (བོད་ཡིག), Chinese (中文), Hindi (हिंदी), Tamil (தமிழ்) and Nepali (नेपाली).
Read more
His Holiness the 9th Panchen Lama Thubten Choekyi Nyima was born in 1883. The name "Panchen" is an abbreviation meaning 'great scholar'. In fact, the Panchen Lama is second-highest ranking Lama in the Gelugpa school of Tibetan Buddhism, the highest being the Dalai Lama.
Read more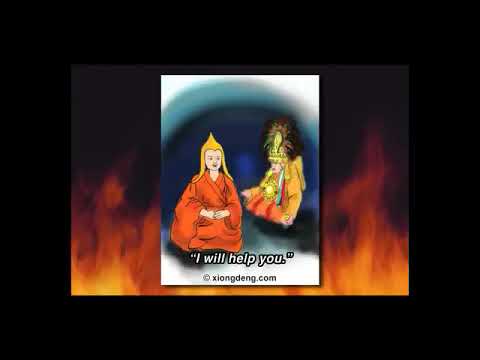 Featuring charming hand-drawn illustrations and narrated in Chinese, this introductory video tells the story of Dorje Shugden's arisal as a Dharma Protector in a simple and straightforward manner, and is suitable for both beginners and senior practitioners alike.
Read more
The 10th Panchen Lama Lobsang Trinley Lhündrub Chökyi Gyaltsen was a great patron of Tibetan language, arts, culture, history, religion, scripture, ancient texts, traditions and a scholar of Buddhism himself. He is the highest ranking Gelug lama, second only to the Dalai Lama.
Read more
Dorje Shugden is closely connected with China in many ways. In Dorje Shugden's kangso or fulfilment ritual by His Holiness Kyabje Pabongka Rinpoche, it is stated that Dorje Shugden resides in Wu Tai Shan (Five-Peak Mountain) of China.
Read more
Located behind the main chapel of Jowo Rinpoche is the Dorje Shugden Chapel – Trode Khangsar. It was commissioned by His Holiness the 5th Dalai Lama in the 17th Century and serves as a testament to the official establishment of Dharma Protector Dorje Shugden's practice in Tibet.
Read more
In 1930, Denma Choje Jampa Thubten Gelek Gyatso was born in Namkha Zong, Tibet. At the age of three, he was recognised by H.H. the 13th Dalai Lama as the incarnation of the 18th Denma Choje and was presented the seal of office and official documentations of his recognition.
Read more
Emperor Kangxi is one of China's most benevolent rulers who is loved by the people until today. Unlike other emperors who are usually painted in military uniform, Kangxi is usually depicted as a scholar with a gentle expression and surrounded by books, or at a desk or holding a pen.
Read more
The 18th Dromtug Rinpoche was recognised by His Eminence Serkong Tritul Rinpoche as an emanation of Avalokiteshvara and Mahasiddha Mahipa, one of the 84 Mahasiddhas of India.
Read more
In the Yuzhu District of Youyang County, Chongqing, China, is a Buddhist temple called Xia Feng Temple. Its main shrine features a Dorje Shugden image and the existence of this temple signifies the growth of Dorje Shugden's practice in mainland China.
Read more
Amarbayasgalant Monastery is one of the largest monasteries in Mongolia. It was established by the Yongzheng Emperor in 1727 and completed at a later date by his successor, the Qianlong Emperor. This video shows the culture of the monastery and its various activities.
Read more
In 2013, a beautiful 5-foot Dorje Shugden statue was commissioned for a temple in Liaoning, China. This statue was installed as the main icon in the Protector chapel of Rui Ying Si, a monastery located in the Mongolian Autonomous Region of China.
Read more
A picture in the article entitled "Monks study at branch school of Yunnan Institute of Buddhist Studies" clearly shows a framed picture of the mandala of Dorje Shugden. This is an encouraging sign of the growth of Dorje Shugden's practice.
Read more