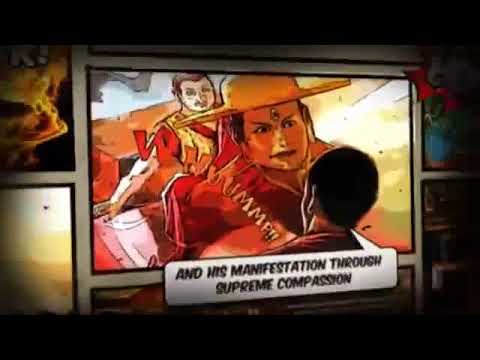 The graphic novel retelling the story of Dorje Shugden is now available in 11 languages. With historically accurate content portrayed in an engaging manner, this full-colour graphic novel is suitable for both beginners and seasoned practitioners.
Read more
Compiled from H.E. Tsem Rinpoche's teachings and commentaries on Dorje Shugden's practice, these easy-to-follow retreat instructions and downloadable materials will equip you with the knowledge to engage in an incredibly beneficial Protector retreat.
Read more
Ask A Question
This is a section for you to clarify your questions about Dorje Shugden. Just post your question below and check back later for the answer.
June 29, 2020
Good day, I'm a Dharma practitioner based in South Africa. I took refuge and Bodhisattva vows in the Nyingma tradition. I am not bound to any particular tradition though, in my personal approach. I am also loosely affiliated with the New Kadampa Tradition as I received my very first teachings in that lineage, namely a Je Tsongkhapa empowerment in 2010. After I took Refuge and Bodhisattva vows in 2019 I began having dreams about Dorje Shugden. In one dream he appeared as though hovering over my chest and promised to protect me. I have had other dreams where Dorje Shugden appeared and had a very compassionate nature and expression. My question is: why was it difficult to do Dorje Shugden practice as a member of the NKT but upon taking refuge in the Nyingma lineage, I'm having dreams of Dorje Shugden and experiencing his energy positively? I am considering rejoining the NKT but I don't want to break my connection to the Nyingma lineage or my gurus. The NKT's structure and Je Tsongkhapa's teachings resonate strongly with me. Your advice would be much appreciated.
May the Buddhas and Bodhisattvas bless you.
Thank you 🙏🏻
Clinton
Ps. Can one do Dorje Shugden practice without empowerment?
Thanks 😊
READ MORE
There are no upcoming events at this time.
Do we actually know the meaning and reason for paying respects to the Sangha, and how does respecting the Sangha help us in our spiritual growth? Read more:
http://bit.ly1YlRTEw
Lucy Yap
Page Views By Country
Malaysia
125,014
United States
45,446
India
30,661
Singapore
28,069
Mongolia
18,266
Taiwan
15,283
Vietnam
16,218
United Kingdom
16,846
Brazil
9,712
Indonesia
10,095
Thailand
6,952
Nepal
7,274
Canada
8,156
Bhutan
6,760
China
5,846
Italy
7,332
Australia
5,466
South Korea
3,331
France
3,759
Germany
3,688
Mexico
2,426
Spain
3,483
Japan
2,352
Switzerland
3,686
Sri Lanka
3,394
Netherlands
2,248
Hong Kong
2,298
Portugal
1,238
Russia
1,994
Cambodia
966
Philippines
1,316
Ireland
900
Austria
1,170
New Zealand
843
Norway
1,750
South Africa
844
Peru
591
Sweden
837
Poland
635